Sandi Morey has been collecting and performing traditional folk music for over 60 years.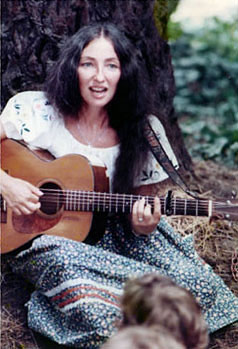 Holding teaching credentials in American Folklore & General Elementary, Sandi leads the two Sing Thing groups and Summer Sing for adults, teaches guitar and voice, and performs for private parties, college classes, libraries, museums, childrens' groups, and special events.
For information about any of the classes mentioned or to schedule a performance or workshop, please call Sandi in Oakland at (510) 482-1833 or email with our contact form.
Education & Credentials
B.A.
current California Elementary Teaching Credential
California Clear General Elementary Teaching Credential
Adult Lifetime Credential in American Folklore
Experience
Have taught voice and/or basic folk guitar privately in the Bay area since 1974
Taught folk guitar at Berkeley and Piedmont Adult Schools
Consultant with "Ocean's Week" out of Lawrence Hall of Science M.A.R.E. program. As part of that program, I have performed at the hall for whale exhibits and in classrooms throughout northern California.
Have performed for children and adults through the Oakland and Berkeley Library systems.
Have performed traditional music on stage solo since the early 1970s. Here's an abbreviated list:

Renaissance Pleasure Faires: Northern and southern California. Solo stage performer and TV, radio.
Dickens Christmas Fairs: Solo stage performer
King's Mountain Art Festival: Their only musician for 4 years

DeYoung Museum, Oakland Museum, Portland Art Museum, California Academy of Sciences, Dunsmuir House, Cohen-Bray House: Performing and leading workshops
Kodaly Music Program, Holy Names College: Concerts for students and teachers
A more extensive resume is available upon request.
In addition to Sing Thing and Summer Sing (for adults and teens), I am available and delighted to perform for private parties, Christmas and Chanukah celebrations, office get-togethers, libraries, schools, weddings, bar and bat mitzvahs, etc. I wear many hats in the music business and am very comfortable with any kind of audience, performing serious, sophisticated balladry or leading group singing. My rates are reasonable and I discount any performance for my students 20%. Please call or email for more information.