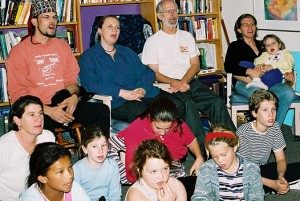 We start at 7:30pm and stop at 8:30pm
While Sing Thing is designed to be a regular, weekly commitment throughout the school year, it is understood that no one can actually attend every session. It offers the most value to kids and grown-ups alike when attendance is consistent, as the songs are often taught over multiple sessions.
You are invited to attend once as our guests to see if Sing Thing is a good fit for you and your family. If you have concerns about your ability to attend regularly, but would like to join us for the school year, please talk with me about it and we'll see what we can work out. If you find that your attendance will be limited in a particular month, we can work that out as well. Sing Thing is not designed as a drop-in group.
Please call (510) 482-1833 or email singthing@sandimorey.com if you have to miss a session. I like to know what size group I'll have.
Sing Thing will not meet on school holidays or vacation times. (School districts now have differing schedules. We will see who needs what and work it out.)
I take one Sing Thing night per school year as sick leave.
If you find that you have to drop Sing Thing for a month or longer, please let me know. Please do not vanish into thin air.
Fees are due and payable at the first meeting of each month. I am not able to prorate if you are not able to make all the meetings in any month. I do attempt to keep the fees low and I will work with you if you have financial concerns.
If you want to bring children into the group who are not in your own family, you must clear it with me first. If it works out for you to do that, the charge for that child will be the same as if they were a single adult.
Family rates are only for your own family members.
Do bring a small recording device. It's best if it is battery-operated as it is less obtrusive. If you do record, please listen and work with your recordings. You will be a great help to the group for us to learn faster and sound better. Tip: Listen to your recordings in the car on trips and commutes. Kids will enjoy the trip, as will you.
We acknowledge birthdays. We have a special song!
Each session one of the kids (or adults) gets to record the songs we sing in The Book — click here for some delightful examples.
Should the need arise — I appreciate parents keeping on top of their children's behavior. I can't teach songs, play guitar, lead singing, and also deal with discipline.
Leave outside activities, toys, and pets at home. Please do not allow children to run or crawl around the room.
Please use these songs in your own lives. Teach them to others. Learn as many harmony parts as you can and spread them around where you go in your lives.
Questions? Call me or email. Enjoy!